I had the pleasure and privilege of traveling to Louisville last month for the bi-annual gathering of the PCUSA General Assembly. Every two years the national General Assembly of the Presbyterian Church U.S.A. gathers to hear policy changes and recommendations from churches across the country. The typical path of an overture to policy looks something like this: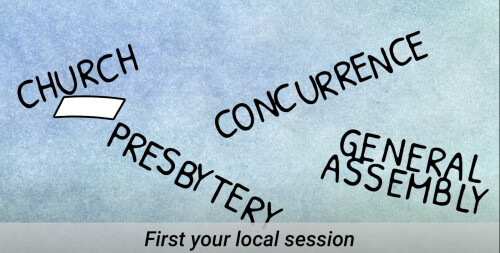 (image captured from the video GA Rocks! On Youtube.com)
It starts with YOU. Anyone can recommend a policy or policy change. Then you bring your recommendation to your own church session for approval, if approved it moves to Presbytery to be approved, if approved it must be concurred (aka also approved by other Presbyteries (at least one other one)), then it goes to the General Assembly to be voted on as policy!
At this year's General Assembly there were many impactful overtures up for discussion and approval. Some of the highlights include a national church Family Leave policy and a denominational divestment from the fossil fuel companies ExxonMobil, Valero, Chevron, Marathon Petroleum, and Phillips 66. This year the Assembly also voted to speak out on issues impacing its members including a resolution to resource practices that interrupt church policies that disproportionately affect Black women and girls and a commitment to the PCUSA's long-standing support for reproductive justice.
Sometimes the issues before the General Assembly seem far from our local congregation, but this year it felt especially important to remember that all our policies and practices are subject to change and review and bettering. We can make changes to help us become the church we know we can be - and as the graph describes, the changes start with you. It starts with someone willing to name a wrong that can be righted or something they learned in their own experience that makes the whole church more loving and inclusive. I hope this inspires us all to remember the power of our own voice, in our own church and in the widespread community of Christ followers.