Each summer, youth and their adult chaperones participate in an offsite mission trip serving communities both near and far. These week-long Mission Trips, working with the Group organization, has the youth and adults working and worshiping alongside youth from across the country.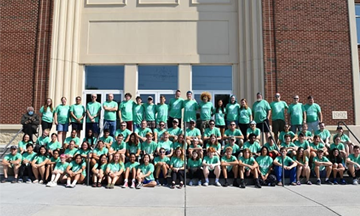 On July 25, 2021, a group of approximately 43 high school youth and 17 congregational chaperones departed for our 30th Youth Mission Trip - a mission that has been a part of our church's defining legacy for three decades - a trip that connects our youth to something not only bigger than themselves, but also to each other. Long-lasting friendships are made and reconnected on these trips. Memories and stories that could fill books and countless photo albums are a product of these annual events. Outlined hands on posters with endless signatures and personal notes are cherished treasures as well as scraps of wood and building material with acknowledgements of achievements from trips past. These are the traditions that carry on year after year. The impact we have in the communities we serve has meaning far beyond what we will ever know.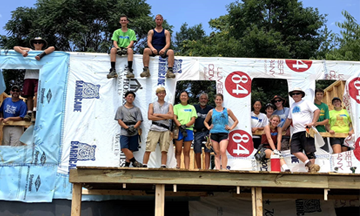 Throughout the past 29 years, our youth and their chaperones have traveled to Connecticut, Vermont, West Virginia, New Hampshire, Pennsylvania, New Jersey, Virginia, Kentucky, Ohio, North Carolina, and Virginia. This July 2021 was our tenth anniversary with the Habitat for Humanity affiliate in Roanoke, Virginia. Over 40 homes in Roanoke alone were a product of our constructing in some part. To extend our impact in the Roanoke community, we host community partnership and block parties in the neighborhoods we serve. This is another opportunity to establish us as friends and supporting allies. From homeowners who are experiencing home ownership for the first time to families who are now generational living in that community, this church and our youth participate in their journey.
For more information, please email or contact the church office at (732) 491-2300.