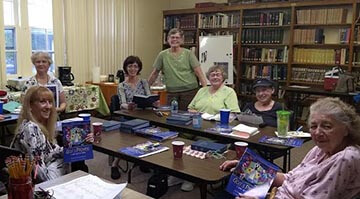 Presbyterian Women (PW) is a church-wide organization whose membership is open to all women of the Presbyterian Church (USA) who choose to participate in or be supportive of PW in any way. PW intentionally seeks membership for women of all racial and ethnic groups so that the organization reflects a vision of the whole church as a community of mutual interdependence in which diversity contributes to wholeness.
PW gives strong support to the mission of the Presbyterian Church (USA) and determines its own leadership program and budget.
Purpose of the Presbyterian Women
Forgiven and freed by God in Jesus Christ,
And empowered by the Holy Spirit, we commit ourselves
To nurture our faith through prayer and Bible Study,
To support the mission of the church worldwide,
To work for justice and peace,
To build an inclusive, caring community of women
That strengthens the Presbyterian Church (USA)
And witnesses to the promise of God's kingdom.
Activities for the Presbyterian Women

We have a number of activities throughout the year for mission, fellowship and service including:
Women's Bible Studies (click here for more information on Adult Bible Studies)
Rummage Sale (April 28 & 29, 2022 and October 14 & 15, 2022) | Holly Fair (December 3, 2022)
Funeral Receptions
Sewing Bees for Community Projects
Moms on Monday (TBA)
Various Gatherings Involving the Community and Our Congregation
To learn more about our activities and missions and to become involved, please contact Nancy Kipnis at or Deb Teall at . All are welcome!
Horizons Bible Study
"What My Grandmothers Taught Me"
Tamar, Rahab, Ruth, Bathsheba, and Mary—Matthew names these women for a reason. How might Jesus have heard the stories of his grandmothers; how do we? Explore Matthew 1 and this theme in the 2021–2022 Presbyterian Women/Horizons Bible study, What My Grandmothers Taught Me: Learning from the Women in Matthew's Genealogy (working title).
Zoom Link: Horizons Bible Study Zoom Link
Presbyterian Young Women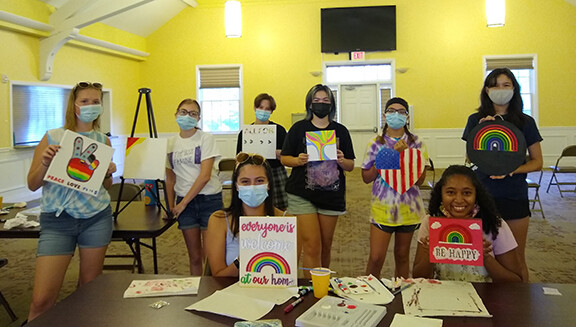 The Presbyterian Young Women meet for fellowship, fun, mission events and more at various times during the year. This group ranges in age from 14 to 18. Ideas for their meetings? Contact Nancy Leardi at or call (732) 491-2264.
PYW December 2021
The Presbyterian Young Women had a terrific time on a Sunday creating jewelry for family gift giving. They enjoyed pizza, music and fellowship.