Mission
The Adult Enrichment Program at First Presbyterian Church provides an inclusive forum for our church family and surrounding community to enrich our faith journey by learning from and being with each other.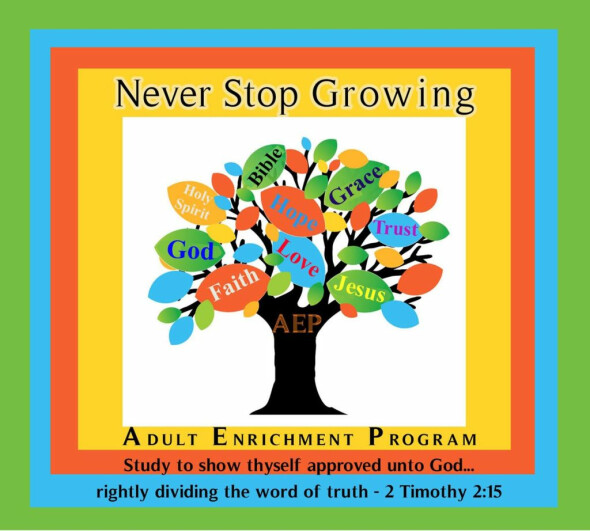 What We Do:
Workshops in faith-based living
Book studies
Seasonal studies
Issue of our time
Bible studies
Seminars
Fellowship events
Second-hour forums
All of those activities and programs offer opportunities for you to grow in your relationship with Jesus Christ.
Bible Studies
Our Adult Enrichment Program offers a wonderful range of studies for spiritual growth and practical application of God's word for dealing with today's realities.
Gospel Stories

A weekly pastoral bible study focused on the teachings of Jesus and how we are to live these teachings. Meets Wednesdays at 10:30 a.m. in the Social Center, PW Lounge. Click here for the Spring 2023 Study.
Horizons Bible Study - Meets on the 1st Monday of the Month beginning October 3rd in the PW Lounge and over Zoom
A monthly study designed to nurture faith though prayer and bible study prepared and led by Presbyterian Women. The 2022-2023 study will be "Celebrating Sabbath"
In the nine lessons of this Bible study - with passages from Genesis, Exodus, Deuteronomy, Isaiah, Matthew, Luke and Acts - we'll consider Sabbath
as a celebration, not a day of dreary formality
as God's intent for all of creation and that includes busy women too
as one day of the week, perhaps a Sunday
as a time to surrender unhealthy striving and frantic busyness, and instead trust God will provide
as a reminder that life is precious and working too much is against God's plans for our precious lives
as a day devoted to community and justice and not exclusively to self-care
Ultimately, Sabbath reminds us to honor God who honors us by giving us a day each week to reset our pace, our priorities, and our lives.
Click here for more information
New Member Classes
We offer introductory classes for church life and ministry for adults considering membership in the First Presbyterian Church of Metuchen. Classes are offered on a regular basis. Contact the Church Office for more information (732) 491-2300.
Devotional Resources
You can find resources on our Devotionals Page.
For additional information, contact Nancy Leardi at , (732) 491-2264.