Community Nursery School (CNS) is a learning through play-based traditional preschool and kindergarten program serving children two and a half through six years of age. Our school fosters creativity, sharing, understanding, and respecting others while focusing on each child's social, emotional, cognitive, and physical development. We celebrate individuality and are dedicated to teaching children to become confident learners and passionate explorers within a safe, positive and nurturing environment. CNS is an allergy friendly school.
We are registering for the 2022 school year. Half-day and full-day classes are available for Pre-K4s. Half-day classes are offered for Pre-K3s. Young Learners and K-Wrap (academic extended-day kindergarten program). An extended-day option until 5:00 p.m. is also available for Pre-K4s, K-Wrap and full-day kindergarten students. Early drop off at 8:00 a.m. is available.
Call (732) 491-2240 to schedule a tour or to find out more about our exceptional programs! Tours are given by appointment. Registration is on a rolling basis until classes reach capacity.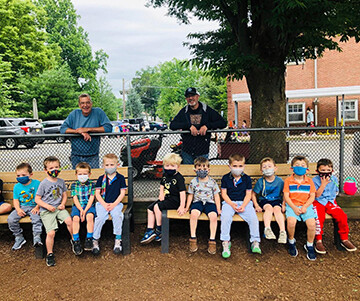 Jonathan and Bob of FPC Buildings and Grounds Department take a moment from mowing our massive lawn to smile on camera with the CNS children!
Community Nursery School, 270 Woodbridge Avenue, Metuchen, 08840 | (732) 491-2240 | Click here to go to Community Nursery School website.
Ministries
Children's Ministry
Community Nursery School
Youth